Event Day – Sunday, July 30th
Ironhawk Junior's Triathlon event takes place on a Sunday at the end of the program. The event  will start at 8:00 AM at the College of Saint Mary (7000 Mercy Road, Omaha, NE).
The Triathlon will kick off with the swim course at the Lied Indoor Fitness Pool, located on the CSM campus. After completing the swim course, participants will transition to ride the bike course on the Keystone Trail, just east of the pool.
Finally, Juniors will proceed to the run course on CSM's campus to complete the triathlon and cross the finish line!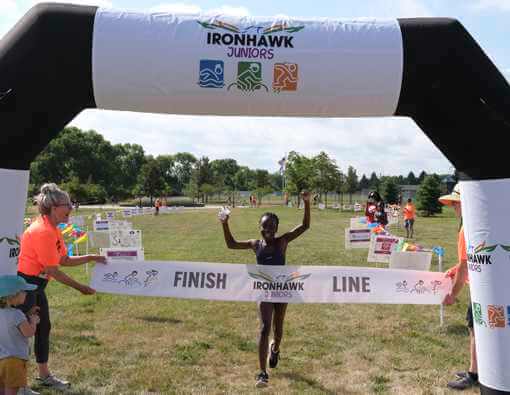 To better suit the ages of the participants, Juniors are split into two age groups and follow the race distances:
Ages 7-10: 100 yds swim, 3 mile bike, .75 mile run
Ages 11-14: 200 yds swim, 6 mile bike, 1.5 mile run
The event will take place on a closed course with all safety precautions taken. The event should be challenging, yet rewarding and fun!